Multi Purpose Ultra Tap
Features
With your UltraWater under sink water filter installed out of sight under your sink, the Ultra Tap alkaline water faucet replaces your main kitchen faucet with the ultimate in convenience, functionality and style!
Ultra Tap gives you an efficient and elegant solution to the problems of counter space, sink clutter and ease of use. Get your mains hot and cold water plus your clean and healthy UltraWater all from a single, beautifully crafted, custom made alkaline water faucet. No need for a secondary faucet. Just one perfect solution.
By using the on/off handle, (the larger lever on the right side), you can get unfiltered hot and cold water direct from your mains.
Then, when wanted, you can transform your faucet with a smooth quarter-turn of the discreet lever (located on the left side). Flipping this lever, you can now enjoy cold, clean and healthy UltraWater from your under sink water filter. There is never any chance of cross contaminating your drinking water. You get all your water needs met at your sink in a single faucet solution.
This is a true high-end custom faucet in every regard. You will feel the confidence in its pleasingly sturdy and elegant construction that will stand up to a lifetime of use. You will also find peace of mind and safety in knowing it is made of lead free compliant materials in accordance with AB1953.
Get clean. Get healthy. Get Hydrated. Get ionized.
Get ultimate convenience.
Get UltraTap!
Polished Chrome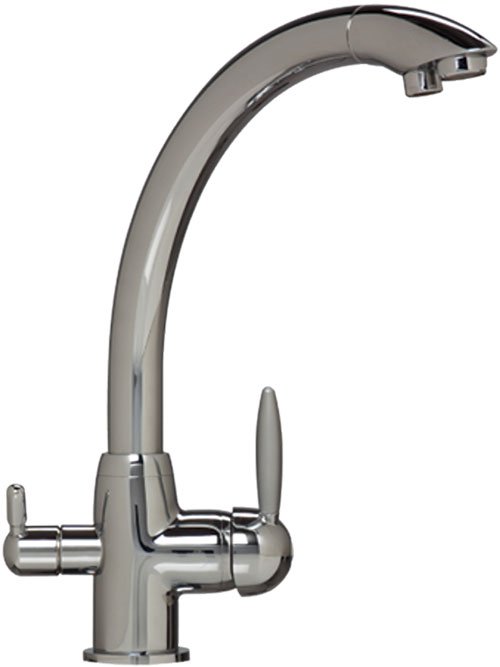 Brushed Nickel